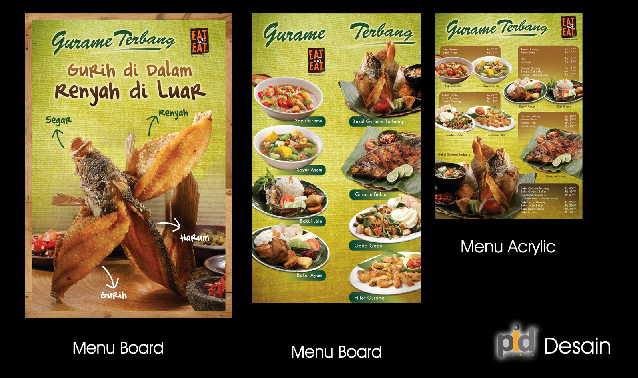 Pid, Picture in design has assigned to design a complete menu food court that consist of menu board with menu card acrylic.  Showing a green gradation with strong appearance of photos.  We wanted to make sure all customers that passing by had fell in love and want to learn more about the menu. Good Photography is also a very important factor.  Pid Food stylist photography shoot for GURAME TERBANG at our studio
The challenges in designing menu for food court is the limited space and some much menu need to be present.  its also need to  grab attention despite of  not so prominent location (too far at the back), low expose level or the place for the stall were not in prime traffic. As a result we need to think creatively in getting a maximal exposure in minimal place.
Menu board for food court has to have right size, not too big not too small, need to have a great attracting color as well has to have a catchy description and showing the beauty of the product we sell.  Menu card, usually are put next to cashier need to have a fitting size of hand held.
If you happen to have outlet in food court and want us to help you to create menu food court do not hesitate to call us or email us click here