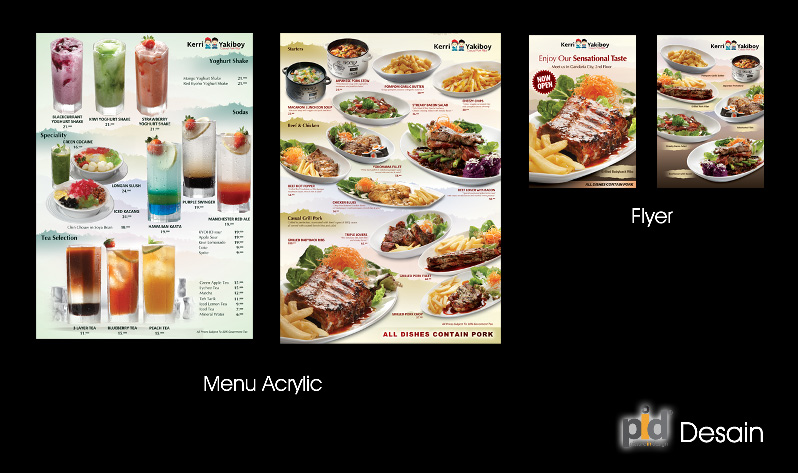 Desain Menu Simpel untuk Kerri YakiBoys
Desain Menu Kerri YakiBoys sangat simpel, menu  2 sisi yang kompak dan simpel dengan acrylic. Desain menu acrylic ini  dibagi dua, satu sisi berisi makanan dan satu sisi lagi minuman.  Desain menu dengan ornamen Jepang di-inspirasikan dengan namanya.  Desain menu ini simpel sekali dengan menanpilkan gambar setiap makanan yang dijual tanpa deskirpsi makanan secara detail. Desain menu yang fungsional dengan penggunaan font yang mudah dibaca dan jelas.  Background dasar dari desain menu menggunakan warna yang lembut  membuat photo makanan sangat menonjol dan terlihat sangat menarik.  Ide dasar dari desain menu ini adalah pictorial yang mengutamakan kesederhanaan.
Desain Menu ini dengan Waktu yang sangat mepet
Pemiliknya menginginkan restoran dibuka kurang dari seminggu.  Tim pid langsung bekerja mulai dari pemotertan makanan , konsep desain menu sampai percetakan dan pemasangan menu acrylic ini.  Sangat tidak dipercaya satu minggu sebelum buka, kami melakukan semua pekerjaan yang biasanya butuh 2 minggu, tetapi semuanya berjalan dengan baik.  Tim fotografer kami yang menangani pemotertan menu makanan dan minuman merupakan senior food photographer Indonesia yang sangat berpengalaman dalam penataan dan komposisi.  Desain Menu berjalan seiringan dengan pemotertan makanan yang dimana biasanya desain awal dahulu baru pemotertan, tetapi kali ini berbeda.
Selain Desain Menu, pid juga desain brosur dan pop lainya
Desain Menu yang sangat pictorial ini juga berkelanjutan dengan desain brosur pembukaan restoran.  Desain brosur ini difokuskan untuk menunjukan satu makanan saja yang menjadi makanan utama.  Benar – benar brosur photo, konsep ide dari brosur sangat spesifik ingin mengincar target market yang spesifik, yaitu penikmat ribs, pork Ribs.
POP Minimal Yang dibutuhkan untuk Soft Launch Restoran Anda selain desain menu
Menu dengan desain gambar yang menarik dan lengkap cukup mewakili apa yang kita jual. Menu harus didesain mewakili citra dan kelas dari restoran. Tema dan konsep dari restoran harus juga diperhatikan dalam mendesain menu, semua ini menjadi tanggung jawab desainer grafis yang tentunya menyatukan feel dan mood dari keseluruhan konsep Anda.
Brosur yang menjual konsep serta menonjolkan makanan / minuman yang menjadi spesiality dari restoran Anda. Tidak perlu banyak kata-kata cukup dengan membuat brosur dengan daya tarik terfokus. Brosur  harus dapat membuat pembaca mengerti apa konsep restoran Anda, membuat daya tarik tersendiri dan menjaring kustomer yang tepat.  Semua ini dipersatukan dengan headline dan komposisi yang tepat dengan konsep dan target market restoran Anda.
Roll up Banner / X Banner yang dipajang di depan restoran (untuk restoran mall) merupakan perpanjangan tangan dari brosur dan menu Anda, Banner dengan desain yang sangat menarik dan berkonsep jelas dapat menjadi penarik kustomer.  Banner juga menjadi alat dekorasi yang menyambungkan konsep restoran dengan makanan yang dijual, serta penyambung lidah server kita kepada kustomer
Hubungi PID untuk desain menu yang menaikan sales restoran Anda di 021 98285315
lihat lebih lanjut hasil desain menu pitcure in design
The Menu Design |desain menu
2 sides comprehensive simple acrylic menu consist of food on one side and beverages on other side.  Designed with Japanese element of art ornament, a improvisation from the name.  Simply showing the picture with less description and deliver tastiness.  Functional design with readable friendly font, settle background color enhancing the product.  Showing the variety in pictorial menu design with in 2 pages.  When we design the menu, we took the simplicity idea and execute it grandee in pictorial.  The owner wanted it to be a 2 sides menu acrylic with lost of appetizing picture.  It was a compelling challenging task, the product were so many and has to be shown beautifully appetizing.  It was a very rush job with a tight dateline for opening.  Simply because the finalize food and beverage from the owner.  Can't believed it but we did it right on time, making it by 6 days including photography, design menu and printing -production.
The Flyer Design | desain brosur
Food pictorial brochure, 2 sides showing the pork ribs as the main food  and the other side with the rest of foods.  A direct simple hard selling  flier to inform location, opening, main food product for the opening period.  Less informative flyer, simply just for showing variety of food menu.
The Big Roll up Banner Design| desain banner
It was deliver a photo appetite appeal showing pork ribs (sorry not shown).  The photo is so good and attractive, so we take this as the main attraction.  Attention grabber !  food on to your face that is the tittle
That's what it takes minimally to open a restaurant
for more info please contact pid and we will be happy to deliver a great selling menu and pop design to build your BRAND
as well seeking sales.
Thank you Kerri Yakiboys for trusting Picture in Design to developed the menu, flier, banner and photography
Pork eater are better lover !
back to main page see more our design work?
brand: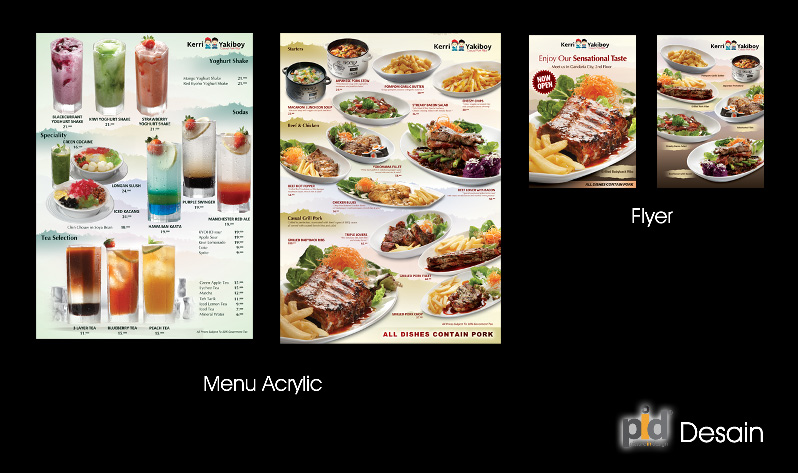 Author Rating





Aggregate Rating
no rating
based on reviews
Brand Name
Product Name
Incoming search terms:
contoh membuat design flyer promosi menu
konsep brosur restoran
contoh banner pembukaan restoran
foto badgrown menu minuman yg menarik
download gambar spanduk ropang
desain spanduk untuk restaurant
desain menu makanan dan minuman simple
desain menu jepang
desain brosur rumah makan
backround brosur restoran