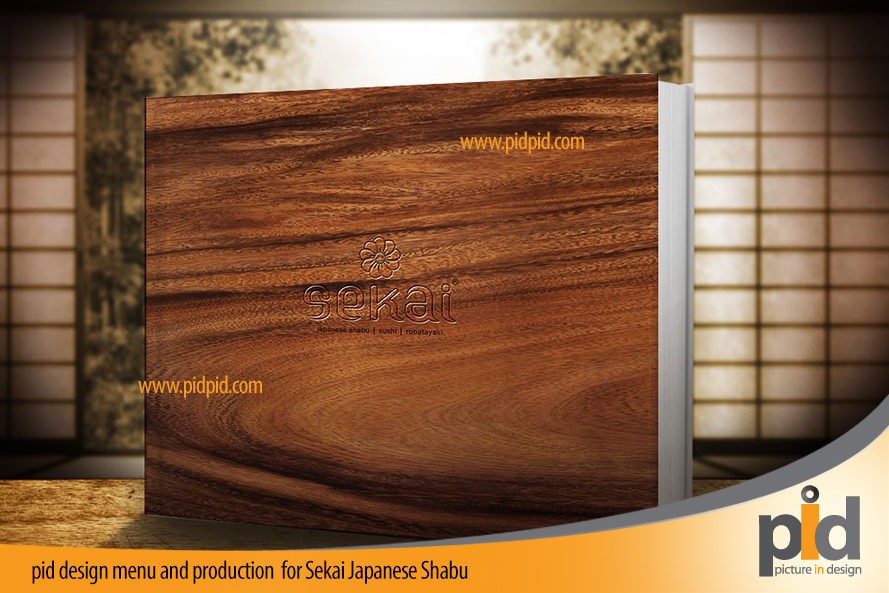 Sekai Restoran Jepang di jalan Suryo No. 30 – Senopati Jakarta Selatan dengan spesialitas di shabu, sushi dan robatayaki.  Foto Makanan Sekai oleh pid Fotografer Makanan, foto interior Sekai oleh pid fotografer interior dan desain menu Sekai oleh pid menu desain.
MENU DESIGNER, understand the concept of each restaurant
Pid, picture in design.  Menu Designer who made the concept of the menu, design of menu, conceptual photography, food stylist photography, printing and binding.  A complete menu making.
Together with their relocation to new place,  We helped them to change the Logo.  Transform to more elegant – update  – modern.  We were also got chance to help them on finishing the marketing decor (glass sandblast sticker) and designed as well produced in-store merchandise (chopstick wrap, table tent card, loyalty card). Big banner for promotion, signage and of course the menu designer made the new menu book.
When we got the brief, we had a good brainstorm with the owner as well the manager about the restaurant concept, the interior design (3d drawing) and the progress of the construction as well the idea shifting and added feature, new product and brand transformation from the old place to new place.  Our menu designer decide to made a withe background settlement and emphasis more on the photography to designed the rest.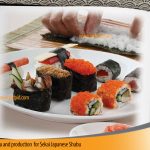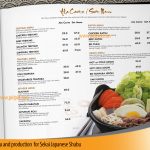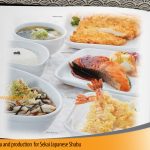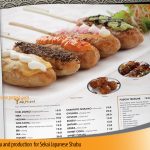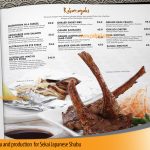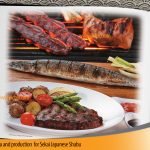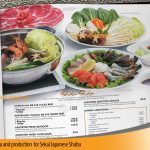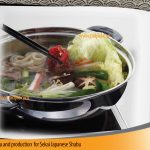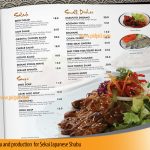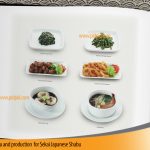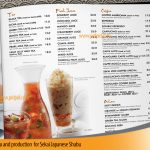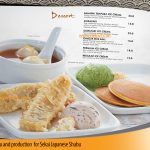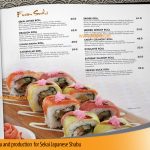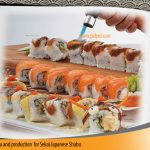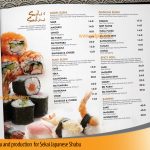 Menu Designer, bring up concept in photo execution
The Menu we designed is 100% photo conceptual with food stylist photographer.  A well collaboration of menu designer – food stylist and photographer.  Before the shoot day we had a pre-production meeting with the whole team.  This was a key for an excellent execution.  The menu designer idea was showing on making of the food; showing how to make, freshly made as well performing beauty food. Humbly and simple to create a inducement.  The cover we took the idea from the table of bar at the restaurant said the menu designer.  The photographer took the picture of the table (it was constructed before other the restaurant component installed) and the whole idea of this: when the menu book was arranged it all together, it will made a bar table, but please do not ask us to proof it now, it became a puzzle of 50 menu books.
Come and enjoy the tasty Japanese food at SEKAI Jakarta Indonesia and see our works.  we were so honored to do artwork for Sekai. Great  SHABU, SUSHI, ROBATAYAKI,  great INTERIOR, great SERVICE, great MENU, great LOGO, Great Design.
Great Menu Great Sales, Great Concept from pid menu designer
Please contact us for setting up your restaurant business or email us at info@pidpid.com
pid Spesialis dalam membuat buku menu, menu desainer
Pid, menu desainer membuat menu sekai mulai dari konsep menu, fotografi, sampai  produksinya.  Menu desainer kami  mendisain sesuai dangan terang gelapnya pencahayaan dan color scheme dari interior dan keunikan makanan.  Sewaktu Menu desainer kami mandapat brief mengenai perubahan dari logo, konsep dan penambahan jenis masakan baru.  Menu desainer kami melihat adanya banyak makanan yang dapat ditonjolkan maka kami menggunakan putih sebagai warna dasar menu.  Menu desainer kami mengkonsepkan untuk membuat menu yang sangat kuat dalam fotografi, konsepnya berdasarkan fotografi.
Menu Desainer yang membuat buku menu restoran sekai juga memiliki layanan fotografi
Fotografi yang mengerti penataan makananlah yang dipilih oleh team menu desainer pid, dengan latar belakang desain dan mengerti pemasaknan di restoran, menu desainer kami meminta fotografer untuk berimprovisasi dalam sesi pemotretan.  Hasilnya sangat menggagumkan, silahkan datang dan nikmati Sekai di jalan Suryo no 30 – Senopati Jakarta Indonesia.
Bila Anda mempunyai restoran dan ingin membuat menu sebagus SEKAI silahkan hubungi kami: info@pidpid.com
Dauza Meshiagare, enjoy your meal…..
SEKAI Japanese shabu, sushi, robatayaki  restaurant  at  jl. suryo No. 30 – senopati south Jakarta. with their variety of quality menu and great service in cozy modern ambience
Appetizers: Sekai Salad, Oriental Chicken Salad, Kani Salad, many more has to try.  Miso Soup, Asari Miso Soup, Osuimono, Oden Soup, many warmness good for health.  Karafuto Shisamo, Agedashi Tofu, Chuka Iidako, Chawan Mushi, Kani Tobiko Salad, great small dishes to explore. 
Shabu -Shabu with Australian Rib Eye Sliced Beef. Assorted Fresh Seafood set, Vegetable set. It is  a great healthy meal
Sushi & Sashimi: Nigiri Sushi: Sake, Maguro, Unagi, Ebi Furai, Ebi Tempura, Kanikama, Sausage & Cheese.  Maki Sushi: Sake, Maguro, Unagi, Vegie, Ebi Tempura, California, Sausage & Cheese.  Spicy Roll: Sake, Maguro, Ebi Furai, Ebi Tempura, Salmon Skin, Crispy.  Gunkan Sushi: Tobiko, Floss, Tuna Floss, Salmon skin, Katsuobushi, Tanuki, Unagi
Robatayaki, Japanese grill: Grilled Short Ribs, Grilled Australian Lamb Chop, Sanma Shioyaki, Saba Shioyaki.  Yakitori,  Japanese Traditional Satay: Tori Momo, Teba, Negima, Tsukune, Gyutan, Uzura, Shitake…. many more
Teriyaki : Chicken, Beef, Gindara, Salmon.  Tempura: Ebi, Fish, Vegetable.  Other: Chicken, Beef  Katsu, Ebi Furai.  Yaki Udon, Ebi Tempura Udon, Hot Niko Udon,  Sukiyaki, Unagi Kanayaki, Gyunaki Roll, Yakiniku, Yakimeshi
Incoming search terms:
https://pidpid com/desain-menu/design-menu/menu-designer/